THERM 8 / WINDOW 8
WINDOW 8 and THERM 8 Research Version
WINDOW 8 and THERM 8 are the latest versions of our tools that are available for testing. The main added functionality for THERM 8 is transient moisture and thermal modeling.
It is not recommended that THERM 8 Research Version is used for conventional thermal modeling, as it is still in the testing phase.
Installation
We recommend that you do not install WINDOW 8 and THERM 8 with other versions of WINDOW and THERM (such as the "7" series), because of an issue with a shared registry. We plan to fix this soon, but for now, keep them installed on separate computers (or on Virtual Machines on the same computer).
It is also necessary to install two redistributable libraries, one for Intel Fortrain and one for Microsoft Visual C++.
Both of these libraries, along with installation instructions, are listed on the THERM 7 and WINDOW 7 download web pages. 
---
WINDOW 8
---
WINDOW 8 Installation Files
Link to download WINDOW 8 installation files:
WINDOW 8.0.06 Setup Full (Window8_0_06_SetupFull.exe)

​Complete installation if you have never installed WINDOW before

WINDOW 8.0.06 Setup Small (Window8_0_06_SetupSmall.exe)

​Smaller installation if you have installed previous versions of WINDOW
New features:
---
Glass Library IGDB update from the web
There is now an option to update the WINDOW Glass Library with the latest IGDB using a web based IGDB database.
In the File / Preferences / Optical Data tab, there is a new option to update the optical data from the "IGSDB" which is a web-based database with the IGDB data. Using this option means that you do not have to install the IGDB on your computer (unless you need it for Optics)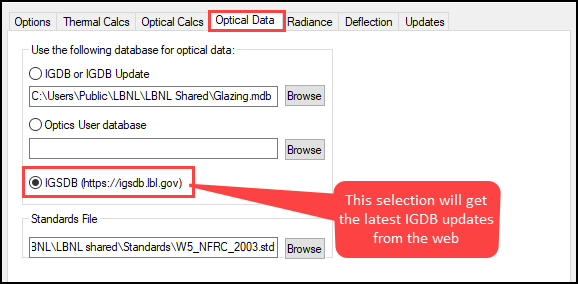 ---
THERM 8
---
THERM 8 Installation File
Link to download WINDOW 8 installation files:
Documentation 
 
New Features
---
Transient Moisture model added
The THERM simulation engine been extended to model time dependent (transient) simulations (a "time domain" has been added to THERM's original 2-D Finite Element Numerical Model (FEM)), and a moisture transfer model has been added. 
The transient thermal and moisture simulation engine in THERM (called HygroThermFEM) allows modeling of thermal bridges and non-homogeneities in building construction without approximation. Such elements are primary pathways and causes for condensation and moisture in building and it is important to model them correctly in a thermal/moisture analysis. By failing to account for the moisture characteristics in the thermal envelope, designers and building can introduce problems that endanger the health and safety of building occupants as well as the durability of the building itself.
The HygroTHERMFEM model in THERM8 will allow building simulation practitioners to accurately model wall, roof, foundation constructions taking into account both the thermal and moisture characteristics of those constructions.