Installation file: "Unknown file type" or "Open with" dialog box
Originally Posted: 
Wednesday, February 28, 2018
Last Updated: 
Wednesday, February 28, 2018
Software/Versions Affected:
THERM›6
THERM›7
WINDOW›6
WINDOW›7
After downloading the program installation file, you may have one of the following situations because your computer (or your network) has not included the ".exe" extension on the filename when it was downloaded. 
A message is displayed saying "Unknown file type"
A dialog box appears that asks what program to open the file with (cancel out of this dialog box if it appears)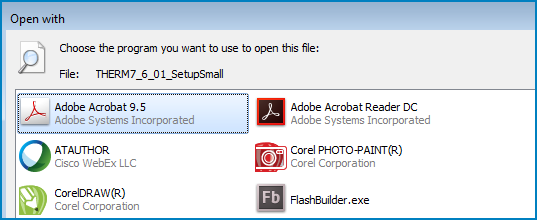 In both cases, the computer does not know what type of file it is (because there is no extension on it), and doesn't know how to run it.
For example, the full filename of a WINDOW installation file is something like
Window7_6_04_SetupFull.exe
However, if, for whatever reason, the file you downloaded does not have the ".exe" file extension, and has the full name shown below, your computer will not know that it is an executable file, and will be unable to run it when you double click on it. 
Window7_6_04_SetupFull
The solution is to add the .exe to the filename (in Windows ExplorerTM ) and then run the file. With that extension the computer should be able to determine that it is an executable file and will run it. 
You may want to also need to run it as "Administrator" which you can do by right clicking on the filename and choosing "Run as Administrator" (of course you need to be an Administrator on your computer in order to see this option).