Vacuum Insulated Glazing (VIG)
Introduction
Evacuated glazing units (EGU) or vacuum insulating glazing (VIG) are an emerging technology developed as a concept some 20-30 years ago, but only now approaching wide-spread commercialization and acceptance. EGU is therefore an active and rapidly changing area of research. EGU for residential and commercial use is a promising technology capable of meeting the rigorous thermal performance requirements of net-zero energy windows. While some EGU technology has been available in Japan and other markets as early as 1996, it has achieved minimal market penetration in the U.S. because insulating performance of currently manufactured units R = 4.7 h·°F·ft2/BTU (0.83 m2·K/W) is not greater than some high performance double pane insulating glazing system, design features restrict use in very hot and cold environments, and relatively high costs. New EGU products are being developed, claiming insulating performance up to R = 14 h·°F·ft2/BTU (2.5 m2·K/W), far better than standard triple glazing, as well as the ability to be installed in all U.S. climate regions.
The COG thermal performance of VIG has been studied in previous work, primarily at the University of Sydney. They have developed the process for evaluation of total heat flow by analytical methods that have been adapted and implemented into the WINDOW and THERM 7 software. Examples of potential thermal performance showing the sensitivity of typical EGU designs to variations in design parameters are presented below.

Thermal Conductance Of The Evacuated Glazing
Thermal Conductance of the space in EGU is the sum of the conductance of the low pressure gas (air), radiation conductance, and pillar array. Conductance of low pressure gasses is calculated using formula by Corruccini. Glass pane in EGU are separated by an array of small support elements. Typically, these support elements have the cylindrical shape and are often referred to as "pillars". Typical geometry of the pillar is 0.5-1.0 mm diameter and 0.05 mm (50 mm) height. They are typically spaced 25-50 mm apart in a form of square or staggered matrix. Conductance of these elements can be measured or numerically modeled to determine accurate thermal performance. Approximate method also exists and is based on the combination of modeling and analytical work for the conduction through small cylinders in contact with infinite parallel plates with thickness much larger than cylinder height.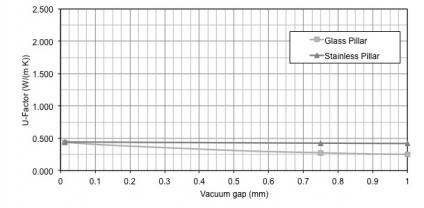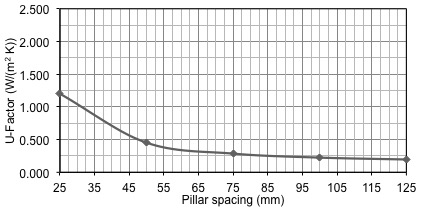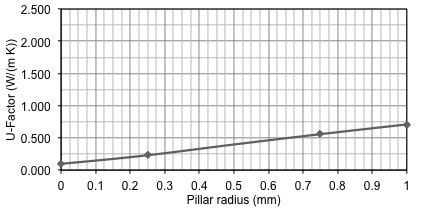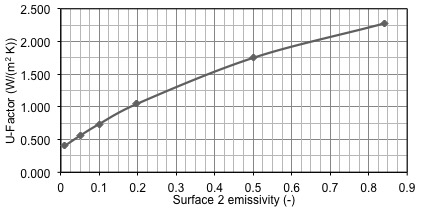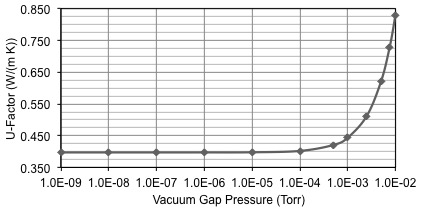 Relevant Publications
Hart, R.H.; and Curcija, D.C. 2013. "Modeling of Vacuum Insulating Glazing." Proceedings of the Thermal Performance of Building Envelopes XII, Clearwater Beach, Fl. December, 2013
Collins, R.E.; and Robinson, S.J. 1991. "Evacuated Glazing". Solar Energy. Vol. 47, No. 1, pp. 27-38.
Collins, R.E.; Fischer-Cripps, A.C. 1991. "Design of Support Pillar Arrays in Flat Evacuated Windows." Aust. J. Phys.
Corruccini, R.J. 1959. Gaseous Heat Conduction at Low Pressures and Temperatures". Vacuum. Vol. 7-8, pp.19-29
Jelle, B.P., A. Hynd, A. Gustavsen, D. Arasteh, H. Goudey, R. Hart. 2012. "Fenestration of today and tomorrow: A state-of-the-art review and future research opportunities". Solar Energy Materials and Solar Cells, Vol. 96, pp 1-28.
Simko, T.M. 1996. Heat Transfer Processes and Stresses in Vacuum Glazing. PhD thesis, The University of Sydney.