Triple Glazing with Thin Non-Structural Center Glass

Introduction
Production and product integration issues have discouraged the use of traditional 3-pane insulating glass units (IGU) in residential windows. Thus, new highly insulating glazings that do not require changes in current frame designs, can be mass produced at affordable cost, and enable the thermal performance benefits of 3-pane glazings are desired.
This highly insulating glazing project focuses on the development of alternative center glazing layers for multiple low-e/gas-filled units. Our aim is to increase the number of technological options available to industry for center glazing layers. The two options in use today, suspended films and triple glazed glass units with low-emissivity coatings and/or insulating gas fills, are technologies that have been in use for over two decades. Using lightweight, thin, non-structural layers, the focus of this project, offers several potential manufacturing and performance advantages:
A single piece spacer is possible reducing labor and material costs, and potential for gas fill leakage.
No significant weight changes over industry standard double-pane units, thus minimal or no changes in standard operating hardware
Thinner center layer allows products to fit in existing cross-sections, reducing the need for revised framing systems.
Pressure equalization between the internal gaps is possible, reducing potential glass deflection.
Modeled and tested IGUs incorporating non-structural thin glass center layers have been shown to perform on par thermally with traditional methods of 3-pane glazing construction. There are several potential challenges that need to be addressed before thin glass can be brought to market, including a business case for the new technology, material cost, manufacturability, durability and dedicated spacer development. LBNL works with glass and window manufacturers by providing design assistance, product testing, and thermal modeling as part of the development effort.
The designs proposed in this project build on proven approaches to insulating glass manufacturing. By using technologies that are currently available from several vendors, this project reduces the business and market risk. Proven heat transfer reduction techniques are the foundation for the variations being researched. In principle our approach can be implemented without major investments in production facilities, by using existing materials that are combined and assembled in novel ways.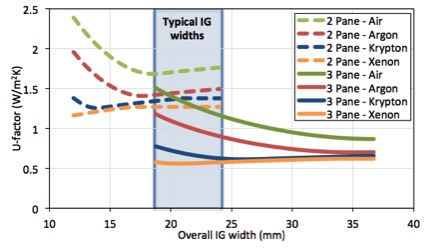 LBNL's prior efforts to understand the thermal performance potentials of various design options culminated with the writing of a report on this subject titled in "Highly Insulating Glazing Systems using Non-Structural Center Glazing Layers". We showed that non-structural center layers that do not create a hermetic seal at the edge have the potential to be as thermally efficient as standard designs while potentially eliminating some of the production and product integration issues that have discouraged the use of triples. Thus, flexibility exists in how a center layer can be inserted into an IG unit without compromising thermal performance. Several IR experiments on un-insulated and insulated edge cases pointed out the importance of edge insulation in minimizing edge deflection. Understanding the impacts of deflection in standard and non-standard three layer units is important both to highly insulating window development and ratings and labeling efforts.
Relevant Publications
Arasteh, Dariush K., Howdy Goudey, and Christian Kohler. "Highly Insulating Glazing Systems using Non-Structural Center Glazing Layers." In 2008 Annual ASHRAE Meeting. Salt Lake City, UT, 2008.