Energy Saving Potential
The base window energy performance can be significantly improved in many cases with the use of operable attachments. The actual use of the operable attachment, or its deployment states, can have a large effect on energy performance. For example when operable shades are used by occupants in a "typical manner," some shades provide energy savings in specific climates, but not all operable shades save energy in all climates. Results are climate dependent. In cooling dominated climates, all window attachments save energy. In northern and many central climate zones, heating energy is higher than cooling energy, so a combination of insulating properties and balanced solar control saves the most energy. Several window attachments provide little to no energy benefit in heating dominated climates and some perform worse than unshaded windows in terms of total energy use.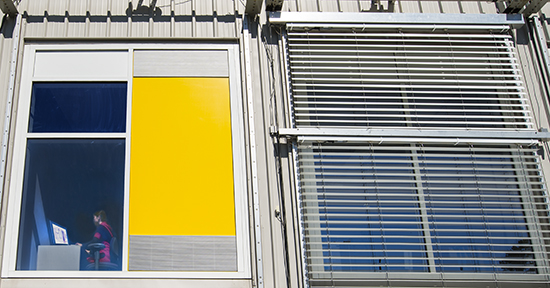 Introduction
The selection of attachments included in this study covers both fixed and operable window attachments. In order to properly account for operational schedule of operable attachments, a separate behavioral study was carried out to determine typical use of operable window attachments (DRI 2013). Based on this typical deployment schedule, results of energy analysis are weighted in order to compare them among themselves and to the fixed attachments.
Window attachment products on the market today include a wide range of performance features and styles. To provide wide applicability to the U.S. residential stock, selected product categories are modeled as a set of parameters. The parameters include four building types, three baseline windows, 12 climate zones, four window attachment qualities and three deployment states (cellular shades, roller screens, solar screens, drop-arm awnings) or eight deployment states for louvered blinds (horizontal louvered blinds, also known as venetian blinds, and vertical louvered blinds). Four "qualities" (or solar and thermal performance levels) represent a wide range of performance, including products typically available on the market today but also speculative new high performance products. This choice gives a theoretical range of energy performance. For some window attachments, this range is closer to the performance of available attachments and for some this range is beyond what is currently available. Although the parameters for each quality are developed with the intent that quality A has the most favorable characteristics (e.g., low-e, high insulation, high reflectance, low absorptance) and qualities B, C, and D are progressively "worse," it is recognized that the overall energy outcomes are not necessarily going to be "Best" to "Worst," since in different climates and even in the same climate zone, a combination of parameters might be beneficial and in some cases might be detrimental. Therefore, generic A, B, C, and D quality designations are used to present the range of attachment properties. The complete set of parametric options resulted in 16,486 energy simulation runs.
Energy modeling results of these options are expressed in terms of energy use and energy savings, and presented in graphs and tables. All of the energy use and energy savings reporting in this study is done in terms of site energy, which treats all energy sources equally. Another type of comparison could be done in terms of source energy, where electrical energy, for example, is multiplied by conversion factor representative of source fuels used to produce electric energy. As the mix of energy sources used in producing electricity substantially change over time, this factor also may change, and would need to be updated in the future.
Window Attachment Parametrics
In order to represent a broad range of different window attachment products, four different sets of performance parameters, called "qualities" were developed for each window attachment category. These "qualities" do not necessarily represent real products and for some options, they will be quite different than what is presently offered. However, in order to analyze a full range of performance options, these theoretical limits were explored. The four different product 'qualities' are denoted by A, B, C, and D and are explained later in the section. The following eleven window attachment categories were considered:
| Outdoor Mounted | Indoor Mounted |
| --- | --- |
| Solar screens | Horizontal louvered blinds |
| Awnings – fixed | Vertical louvered blinds |
| Awnings – drop-arm | Cellular shades |
| Storm panels | Roller shades |
| Surface applied films | Surface applied films |
|   | Interior fixed Panel |
Several categories of window attachments were not included in this study due to the current lack of reliable simulation models. Many of these models are now under development or validation and should be available later in fiscal year 2014 (FY 2014) or FY 2015. While it is difficult to predict energy effects of these attachment categories, it is believed that they are within the ranges of products analyzed here, with respect to their location (i.e., outdoor and indoor). The following window attachment categories were not considered in this study:
| Excluded Outdoor Mounted | Excluded Indoor Mounted |
| --- | --- |
| Roller shutters | Sheer shades |
| Louvered shutters | Window quilts |
|   | Roman shades |
|   | Drapes |
Baseline windows are defined from the selection of typical windows installed in existing or new homes. They range in performance from very poor to very good. Three baseline windows are selected for this study:
Single clear glazing and aluminum alloy frame
Double clear glazing and wood frame
Double low-e glazing and vinyl frame
Methodology
Energy use of windows and window attachments was modeled in EnergyPlus using the typical residential buildings described in the previous section. EnergyPlus can model a wide range of shading and otherwise complex systems when the complex optical radiation distribution is calculated in the WINDOW program (LBNL 2013). WINDOW can generate a Bi-Directional Distribution Function (BSDF) which can be exported to EnergyPlus using the IDF file format. BSDF files define a discrete set of incident and outgoing angles, which fully describe the optical performance of any system, simple or complex, limited only by the resolution of the angular discretization. In this method each layer, as well as the whole system, is described by a matrix of incident and outgoing angles. Further details about the BSDF method and its implementation In WINDOW and EnergyPlus software tools can be found in Klems (1994A and 1994B) and DOE (2013b)
The deployment schedule for window attachments was developed from the results of a behavioral study, funded jointly by DOE and the Window Attachment Industry (DRI 2013). Based on the results of the survey of 2,467 households in 12 markets (see Parametrics section for the list of cities), a deployment schedule was developed for 3 periods during the day, for two seasons, and for the three distinct climatic regions in the country. Of the 2,467 households surveyed, 397 households were removed from the dataset due to issues with data quality, leaving 2,100 households for analysis. The behavioral study considered three different attachment deployments and identified the percentage of products that were in one of these three positions at different times of day:
O: Open
H: Half-Open
C: Closed
The periods of day considered were:
M: Morning, including work hours (6:00 a.m. to 12:00 p.m.)
A: Afternoon (12:00 p.m. to 6:00 p.m.)
N: Evening/Night (6:00 p.m. to 6.00 a.m.)
For each deployment state, the heating and cooling energy use is calculated on an hourly basis for each of the parameters considered and labeled EO, EH, EC for open, half-open, and closed, respectively. While energy use for each deployment state is calculated separately, post-processing is applied to the three deployment states to produce weighted energy use for an operable window attachment, representative of the behavioral study.
Results
A sample side-by-side comparison of home energy use of all window attachments over double pane clear wood window is provided. Each graph shows results for one climate zone, North and South, using the same representative cities for each zone; Minneapolis and Phoenix respectively. Comparisons are done with the time weighted use results described in Methodology section. Window attachments are grouped by window attachment quality, where all window attachments are compared for each of the four qualities. Energy use is represented by horizontal bars consisting of heating (red) and cooling (blue) stacked bars. This allows display of individual contributions of heating and cooling as well as total energy use.
Energy use in North zone (Minneapolis), where heating energy dominates cooling energy as evidenced by very long red bars and very short blue bars. The unshaded baseline window is shown at the top of the graph for reference. Looking at the distribution of energy use by different qualities it can be observed that the spread between different attachments is larger for quality A and B, which means that for some attachments the input parameters play a larger role than for others. Across all qualities in the North zone, interior window panels, and exterior storm panels consistently show lowest energy use. They perform well in both heating and cooling energy departments so their overall energy use is the lowest. Of all the shades, cellular shades show lowest energy use other than for quality D. Most savings comes from heating savings, although there are also some cooling savings, most pronounced for quality A. As expected, louvered blinds provide some savings in cooling energy for more reflective materials (qualities A and B) with slightly more cooling savings for vertical blinds (block more solar radiation). However, the heating energy penalty for vertical blinds is fairly high, making them worse then the baseline window. The presence of a low-e coating in quality A improves the heating energy slightly and for very dark venetian blinds, however the cooling energy penalty for darker blinds makes them only marginally better than the baseline window. Quality A of Roller shades and solar screens expectedly improves cooling performance and are almost neutral for heating energy, which is due to cancelling effects of low-e coating. The low-e increases insulation and lowers SHGC, decreasing the passive solar heating effect. Awnings, both fixed and operable, unsurprisingly substantially increase the use of heating energy while they substantially decrease cooling energy. However, because the cooling energy is quite small compared to heating energy they impose overall energy penalty across all four qualities. In a case like this a change in operating strategy (e.g., open awnings in winter, close in summer), would clearly improve annual performance.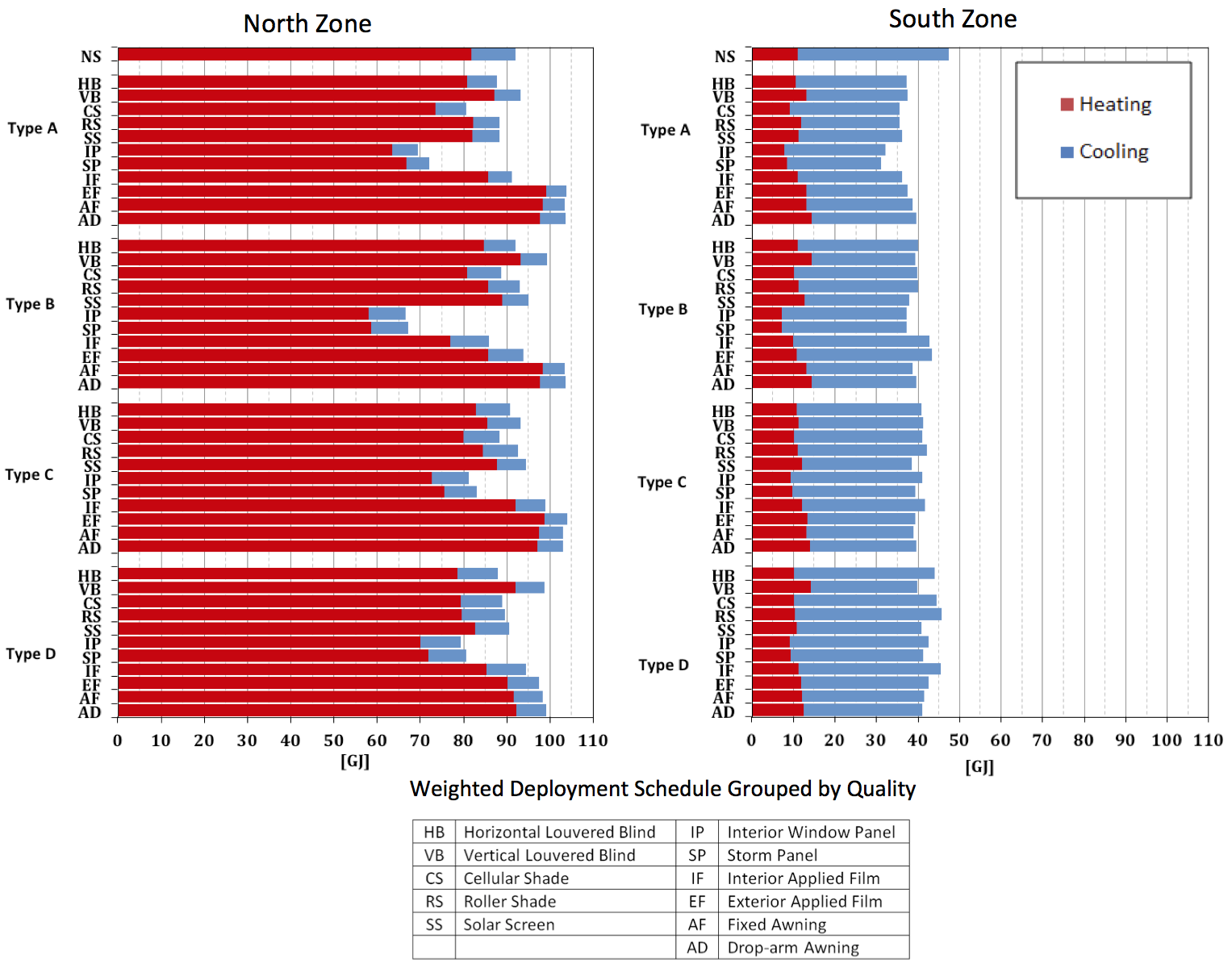 The following table shows energy savings compared to the baseline case without any attachment installed. The values displayed are for the following house type: slab, gas heating, and electric A/C. A summary table of results for all 12 cities is provided in the report.
Double Clear Glazing -Total Energy Savings [GJ] Compared to an Un-Shaded Baseline for All Attachment Types in a House with Slab, Gas Heating, and Electric A/C, for Four Attachment Qualities (A, B, C, D).
Attachment Type

Minn

Washington.DC

Phoenix

 

A

B

C

D

A

B

C

D

A

B

C

D

Horizontal Blind

4.3

0.1

1.3

4.1

10.2

7.4

6.5

3.4

3.3

0.4

1.3

2.9

Vertical Blind

-1.2

-7.3

-1.2

-6.7

10.0

8.0

6.2

7.5

-1.1

-5.4

-0.4

-5.1

Cellular Shade

11.4

3.4

3.8

3.2

11.8

7.6

6.3

2.9

8.3

2.9

3.0

2.3

Roller Shade

3.8

-0.9

-0.5

2.6

11.8

7.5

5.4

1.8

2.6

-0.2

0.1

1.7

Solar Screen

3.7

-3.0

-2.3

1.6

11.2

9.4

8.9

6.6

2.9

-2.0

-1.3

1.5

Interior Window Panel

22.6

25.5

10.9

12.6

15.1

10.0

6.3

4.8

15.3

16.4

7.3

8.0

Storm Window

20.0

24.9

9.0

11.4

16.4

10.2

8.1

6.0

13.8

16.2

6.4

7.6

Interior Applied Film

0.9

6.1

-6.9

-2.3

11.3

4.6

5.7

2.0

1.7

4.4

-3.2

-0.9

Exterior Applied Film

-11.7

-1.9

-12.0

-5.5

10.0

4.0

8.0

4.8

-5.9

0.1

-6.5

-2.5

Fixed Awning

-11.4

-11.4

-10.8

-6.3

8.7

8.7

8.5

5.8

-6.3

-6.3

-5.9

-3.0

Droparm Awning

-11.5

-11.5

-11.0

-7.0

7.8

7.8

7.8

6.4

-7.6

-7.6

-7.3

-4.4

No Shade

92.1

92.1

92.1

92.1

47.4

47.4

47.4

47.4

56.7

56.7

56.7

56.7
Relevant Publications
Curcija, Charlie, Mehry Yazdanian, Christian Kohler, Robert Hart, Robin Mitchell, Simon Vidanovic. 2013. "Energy Savings from Window Attachments". Lawrence Berkeley National Laboratory.
DRI. 2013. "Residential Windows and Window Coverings: A Detailed View of the Installed Base and User Behavior" D&R International, Ltd. Silver Spring, MD. February 2013.
Principal Investigator(s)